---
See What Signals It Uncovers For You
---
Customer Case Studies
"Infer is like our private Google engine - it considers thousands of signals across the web and creates this custom index that is bent to the needs of AdRoll's business."
Suresh Khanna, Chief Revenue Officer
---
A Fortune Teller for Sales
Retargeting and Display Advertising  |  San Francisco, CA  |  <500 Employees
To maintain its amazing growth trajectory and stay one step ahead of the competition, AdRoll has instilled a culture of data-driven decision making. Infer helps the company scan thousands of signals from across the web so that it can identify which potential customers are most likely to convert. AdRoll has one set of leads that converts at 4x the baseline, and one set that will never convert – and Infer helps tell the difference between the two. As the company's sales reps consider who to call out to, Infer ensures they focus where they've got the best shot at winning.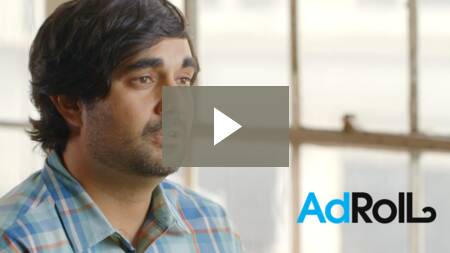 ---
"Our sales team needed helping keeping pace with a rapidly expanding sales pipeline," Denney said. "Using Infer's predictive scoring, we were able to immediately identify and convert great leads that had been buried in our nurture database."
Baxter Denney, VP of Growth Marketing
---
New Relic Knows the Value of Data
Application Performance Management  |  San Francisco, CA  |  <500 Employees
New Relic is a software analytics company that makes sense of billions of data points about millions of web and mobile applications in real time. A data-centric company itself, New Relic appreciates the difference Infer is making in its sales process.
As the company grew, its sales team needed helping keeping pace with a rapidly expanding sales pipeline. Using Infer's predictive scoring, New Relic was able to immediately identify and convert great leads that had been buried in its nurture database. New Relic continues to leverage Infer's applications to better prioritize and forecast all types of sales and marketing efforts.
---
"Infer helped us drive a 3x increase in qualified leads sent over to sales."
Gina O'Reilly, Chief Operating Officer
---
Predictive Scoring Increases Nitro's Conversions by 7x
Document Productivity & Collaboration  |  San Francisco, CA  |  <500 Employees
Nitro, a digital document platform, provides free product trials for both consumers and enterprises. Instead of its sales and marketing team working through a cone shaped customer funnel, Nitro's looked more like a martini glass. Infer took the company's trial leads, scored them, and relayed which should be pushed to the Nitro sales team.
Suddenly, the company was able to see which prospects were great and which were simply not a fit for its product. As a result, the volume of qualified leads sent to sales increased by 3x, and Nitro's highest-scored leads converted 7.4x better than its average conversion rate. Additionally, Nitro uses Infer to optimize its AdWords customer acquisition spending based on the quality of leads yielded by various keywords.
---
"We love data, so it's exciting to see Infer use powerful signals crawled from the web that we never would have discovered."
Elissa Fink, Chief Marketing Officer
---
Tableau Uses Predictive to Deepen Customer Insight
Business Intelligence & Analytics  |  Seattle, WA  |  <5000 Employees
Tableau is the creator of one of the most widely used analytics tools across industries. With over 21,000 customers using its product, Tableau has convinced the world of the value in visualizing big data-based business intelligence. Along with its growth came huge lead volumes that were difficult for the company's sales and marketing teams to qualify.
Infer's predictive scoring helped Tableau eliminate wasted effort on bad leads, while identifying the best prospects to prioritize. Infer's signals provide unique data insights that even Tableau would not have identified on its own. 
---
"95% of opportunities are identified by Infer's lead scoring model."
Stephan Blendstrup, Global Sales Operations
---
Zendesk Infuses Sales with Predictive Scoring
Customer Service Software  |  San Francisco, CA  |  <1000 Employees
Over 30,000 companies use Zendesk to deliver great customer service to over 200 million people. Zendesk's innovative solutions have driven rapid growth – something the company thinks about in terms of 10x.
With Infer's predictive scoring, Zendesk is turning its innovation inward and inventing new ways to manage high-volume sales and marketing programs, and scale operations at a low cost. Infer helps the company optimize its hybrid enterprise and self-service sales models by analyzing each lead's fit for the Zendesk product, as well as its free trial usage in order to identify which select leads should be assigned to sales reps.
"Life before Infer was going back to the Stone Age."

Bill Macaitis, Chief Marketing Officer
Infer supercharged Zendesk's revenue by taking the guesswork out of determining lead quality. The vast majority of its closed/won opportunities are identified by Infer's predictive model, helping the sales team sharpen its focus and increase productivity by 70%.
"We now have full confidence that the leads we're getting are the leads we should spend time on. We can focus all of our energy on providing a better sales experience and marketing can focus on better hyper-targeting of our leads."

Jim Cyb, VP of Sales
In the words of Zendesk's CMO, Infer has become a "core piece of technology" to Zendesk.
---
"Thousands of sales and marketing software vendors promise the world, but Infer actually delivers."
Kevin Gaither, VP of Inside Sales
---
ZipRecruiter Achieves 12x Return on Investment with Infer's Predictive Lead Scoring
Hiring Platform  |  Santa Monica, CA  |  <150 Employees
ZipRecruiter was started by four founders around a kitchen table and it quickly grew beyond their wildest imaginations. Now used by over 100,000 businesses, the site allows anyone to post jobs to 50+ job boards with a single click.
As ZipRecruiter's paid subscriber count surged, the founders saw an opportunity to go beyond self-service transactions and supercharge growth with an inside sales team. However, once the team was in place, a new challenge arose: prioritizing among a stream of thousands of incoming leads.
Predictive Scoring to the Rescue
ZipRecruiter signed on with Infer and, within 15 days, was up and running with predictive lead scoring. After ensuring model accuracy using statistical techniques, the company began identifying which leads accounted for the bulk of its revenue and looked for opportunities to optimize sales activities accordingly. For example, by comparing its sales efforts (e.g., phone calls and emails logged) against sales results (e.g., converted leads and revenue), ZipRecruiter quickly recognized the value to be gained by shifting the sales team's focus to the most promising leads.
Through its analysis, ZipRecruiter determined that nearly one-third of sales' time was being spent on lower quality Infer C and D-Leads, and yet those segments accounted for less than 5% of overall revenue.
After Infer's predictive lead scoring went live and was exposed to reps, ZipRecruiter saw an instant change in behavior. Within the first 60 days, time spent working bad leads dropped by 19% without any corresponding loss in revenue – a clear step toward positive ROI.
Realize Return on Investment
To calculate the cost savings from not working bad leads, ZipRecruiter estimated the fully-loaded cost of its inside sales team and multiplied that by the time saved.
Rather than focus on simple cost savings alone, ZipRecruiter drove up its ROI even further by re-allocating sales effort to drive impressive top-line results. Reps began to double down on those leads that were the best fit for the company's product, and stuck with their Infer A and B-Leads much longer than before.
The impact of predictive lead scoring was especially pronounced amongst ZipRecruiter's Infer B-Leads, where average deal-size increased 71% and monthly bookings grew 154%.
"It took two weeks to get started and less than a month for Infer to pay for itself. Infer has delivered amazing results for us, such as tripling our average deal size and quadrupling our lead conversion rate."

Kevin Gaither, ZipRecruiter VP of Inside Sales
---
---
Impact of Predictive Scoring (60 Seconds)